Penne Pasta with Spinach & Carrots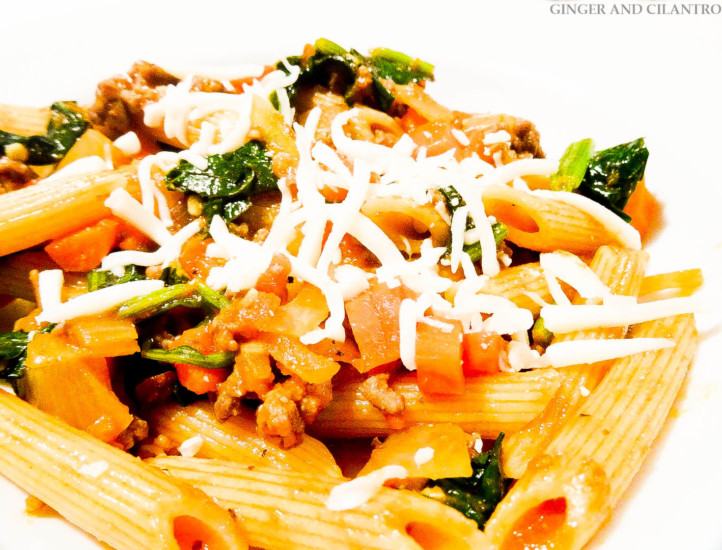 ½ lb ground beef
½ bottle pasta sauce
2 carrots, diced
1 bunch spinach, roughly chopped
1 Tbsp garlic, minced
1 medium onion, diced
1-2 Tbsp dried oregano (1 Tbsp if using fresh oregano)
1-2 Tbsp sun-dried tomatoes for more intense flavour (optional)
Mozzarella cheese (or your preferred choice for topping)
Bring a large pot of water to boil. Cook pasta in the water with 2 tsp salt. Take a bite to test for doneness. Drain pasta and set aside, reserving about 1 cup of the liquid.
Stir-fry onions in 1 Tbsp of oil till softened. Add garlic and fry till fragrant.
Add the ground beef. Cook till beef is no longer pink. Add in carrots and sun-dried tomatoes (if using). Cook for about 1 minute.
Stir in the pasta sauce and simmer for about 2 minutes. Add spinach and cook till just wilted.
Add cooked pasta to the sauce with a few Tbsp of reserved liquid. Salt to taste if needed.
Top with mozzarella cheese and serve.
Recipe by
Ginger and Cilantro
at http://www.gingerandcilantro.com/penne-pasta-spinach-carrots/