Or chien 蚝煎 ('Or luah' / Fried Oyster Omelette)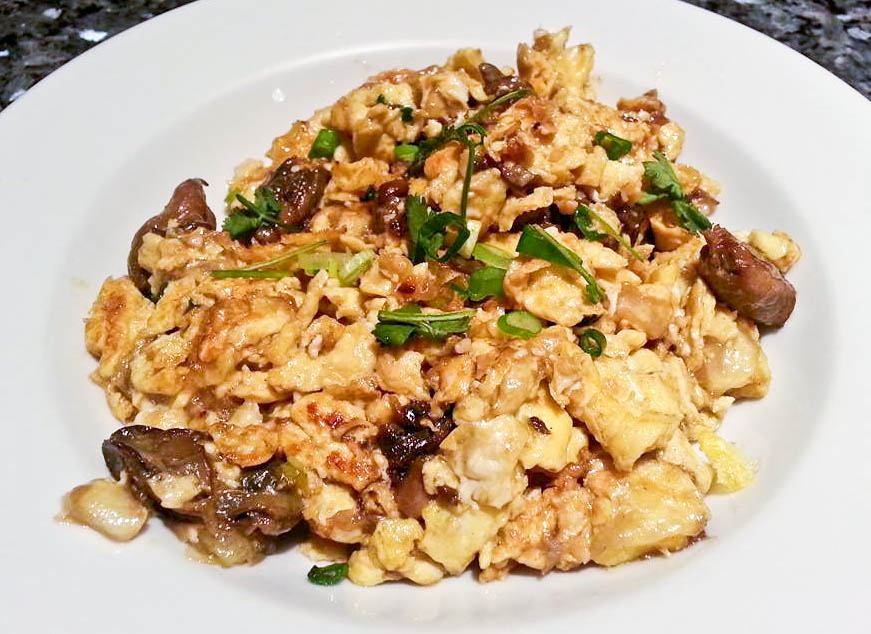 Smoked oysters, 1 tin, drained
3 eggs, beaten
¼ cup prawns, shelled
2 tbsp tapioca flour
2 tbsp corn starch
Fish sauce
Cooking wine
White ground pepper
Soy sauce
Garlic, chopped
Chilli (optional)
Cilantro or Spring onions, thinly sliced to garnish
Mix flour and corn starch in 2 cups of water and stir well.
Heat small amount of oil and add well-stirred, flour/starch mixture into oil. Leave it alone till flour is translucent and slightly browned at the edges.
Pour eggs over it and heat for a while till edges start to brown.
Cut up flour and eggs with spatula and stir well. Push to one side of the wok.
Add a little more oil in wok.
Fry garlic and prawn.
Add cooking wine, pepper, soy sauce. Add chilli if desired.
Add dash of fish sauce.
Add oysters till heated through.
Mix everything together, adding pepper, soy sauce, chilli to adjust taste accordingly. Add more fish sauce if preferred.
Garnish with cilantro or spring onions.
Recipe by
Ginger and Cilantro
at http://www.gingerandcilantro.com/or-chien/