Easy Banana Walnut Loaf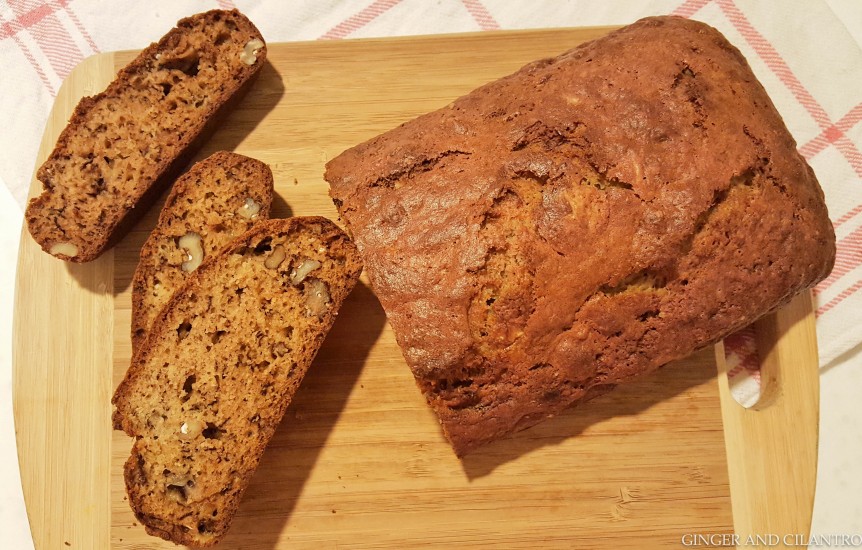 1¾ cup​ flour
2 eggs
¾ cup sugar
4-5 very ripe medium bananas (see Tips for using banana essence)
½ stick butter, melted
1 tsp​ vanilla essence
1 tsp baking powder
½ tsp baking soda
½ tsp salt
½ tsp 5-spice power (see Tips for using the more traditional cinnamon or nutmeg)
1½ cup walnuts, roughly chopped
Preheat oven to 375 F. Thoroughly grease a 9-inch loaf pan.
Combine flour, baking powder, baking soda, salt, 5-spice powder and walnuts.
Mash the bananas. Stir in the melted butter.
Beat the eggs. Add sugar and continue to beat till dissolved. Stir in vanilla. Add mixture to the bananas.
Fold the wet ingredients into the dry ingredients till combined and all the flour is mixed. Do not over-mix the flour as it will result in a tough bread. A lumpy batter is alright.
Pour the batter into a greased 9" loaf pan. Bake at 350F for 45-50 min or until a toothpick inserted into the center comes out clean.
Allow to cool on a wire rack. Best eaten warm and with milk.