Tomato Pie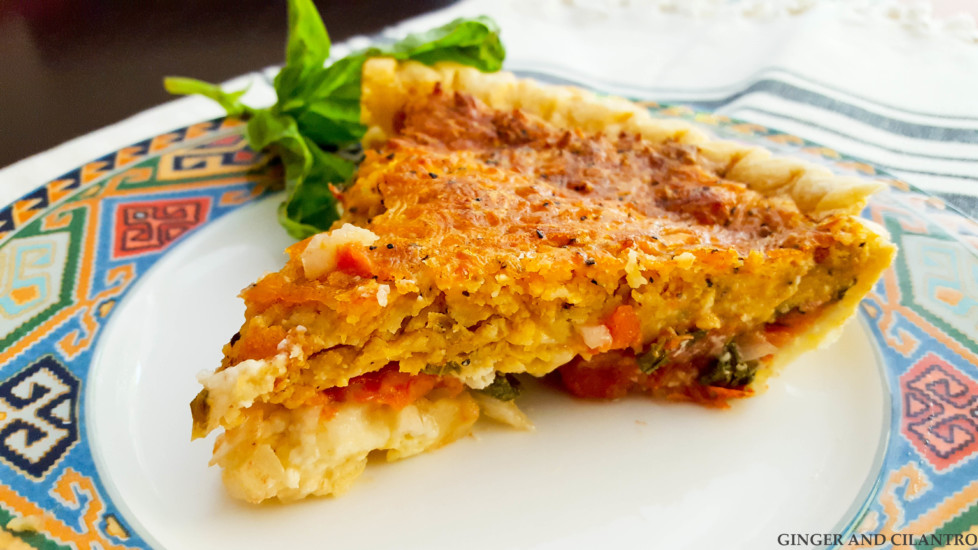 Cuisine:
American/Southern
1 deep dish 9-inch pie shell (I used store-bought)
½ red onion, diced
4 tomatoes, roughly chopped (~3-4 cups)
¼ cup basil, thinly sliced
8 oz / 2 cups grated Sharp Cheddar and Monterey Jack cheese
½ cup mayonnaise
1 Tbsp Tabasco sauce
Freshly ground black pepper
Salt
Preheat oven to 350F (175C).
Sprinkle ½ tsp salt over tomatoes and let it sit.
Meanwhile, blind bake (pre-bake) the store-bought pie crust for 10 minutes.This is to prevent the crust from undercooking and remaining soggy. To blind bake, pierce the bottom a few times with a fork. Line with foil or parchment paper, pressing down at the edges. Weigh it down with uncooked rice of dried beans (these can be reused). Bake for 10 minutes and carefully remove weights and foil/parchment paper.
Mix cheese, mayonnaise, Tabasco sauce and black pepper. Set aside.
Tomatoes will have expelled quite a lot of liquid. Pour it away and squeeze out as much remaining liquid as possible.
Spread a thin layer of cheese at the bottom of the pre-baked pie crust.
Layer on onions and tomatoes. Add basil all over. Spread cheese evenly to cover everything.
Bake at 350F (175C) for 30 minutes, or until brown and slightly crusty, adding 10 minutes at a time if needed, depending on oven temperature.