Eggplant with Dried Shrimp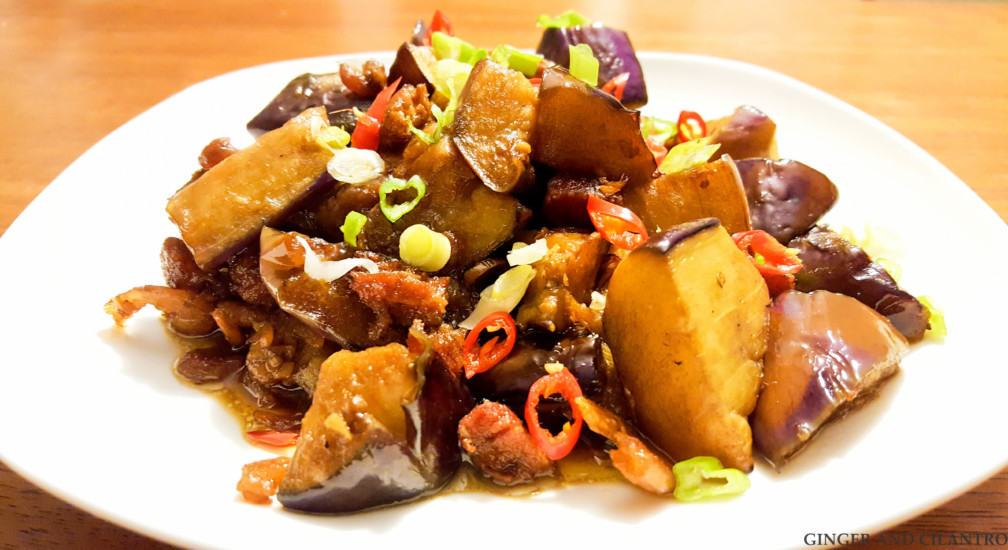 1 large eggplant, wedged
3-4 Tbsp dried shrimp/small palmful, soaked
2 cloves garlic, finely chopped
1 Tbsp dark soy sauce
1 tsp sesame oil
1 tsp sugar
1 tsp chicken powder or salt
1 green onion, thinly sliced on diagonal
1-2 red chilli, thinly sliced on diagonal
Lightly fry eggplant in 6 Tbsp oil till slightly browned and softened. Drain on paper towels and set aside.
Leave 1 Tbsp oil in the wok or pan. Stir-fry garlic till fragrant. Add drained shrimp and stir-fry till fragrant.
Mix dark soy sauce, sesame oil, sugar and chicken powder in ¼ cup of water.
Add the eggplant and mixed sauce into the wok. Stir and simmer till liquid is halved
Garnish with green onions and chilli.
Recipe by
Ginger and Cilantro
at http://www.gingerandcilantro.com/eggplant-with-dried-shrimp/