Braised Pork Ribs with Black Beans and Bitter Melon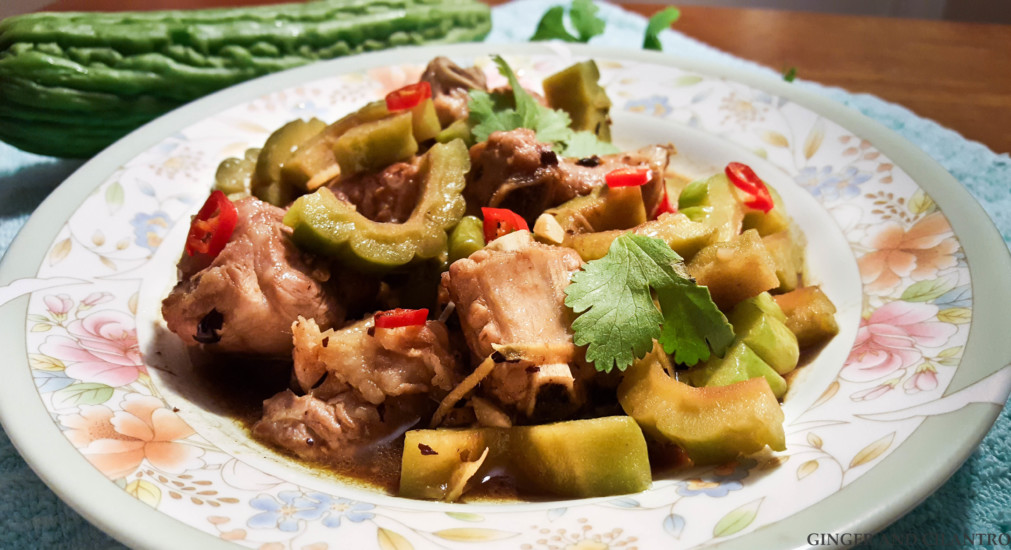 ½ lb pork ribs, cut into 1" pieces
1 bitter melon, rinsed to remove debris
1 Tbsp fermented black bean paste
1 Tbsp mirin wine
3 cloves garlic, minced
1" ginger, grated
1 chilli padi/bird's eye chilli, finely chopped (optional)
1 cup chicken stock
1 Tbsp oyster sauce
2 Tbsp sugar
1 tsp light soy sauce
½ tsp sesame oil
1 tsp corn starch, dissolved in 3 Tbsp water
Cut bitter melon lengthwise into half. Spoon out the white pith in the middle and discard. Cut into ½" thick pieces. Soak in salt water for 30 mins and drain.
At the same time, soak the fermented black bean paste in the rice wine for 30 mins. Once ready, drain and set aside.
Heat 2 Tbsp of oil in a wok or pan. Lightly fry the pork ribs for 2-3 minutes and the bitter melon for 1 min. Set both aside.
Reserve 1 Tbsp of oil in the wok. Add garlic and ginger and stir fry till fragrant. Add black beans and ½ the chilli (if using) and stir fry for 1 minute.
Stir in the chicken stock, oyster sauce, soy sauce, sugar and sesame oil. Bring to a boil.
Add the pork ribs and simmer for 30-40 minutes, stirring every 10 minutes or so. The pork ribs should be quite tender.
Add the bitter melon, mix well and simmer for 1-2 minutes till melon is slightly softened. For crunchier bitter melon, simmer for for just 1 minute.
Lastly, add corn starch dissolved in 3 Tbsp water. Mix well to thicken. Serve warm.
Recipe slightly adapted from http://dreamersloft.blogspot.sg/2017/01/bittergourd-pork-ribs-in-black-bean.html
Recipe by
Ginger and Cilantro
at http://www.gingerandcilantro.com/braised-pork-ribs-black-beans-bitter-melon/