Easy Turkey Meatball Soup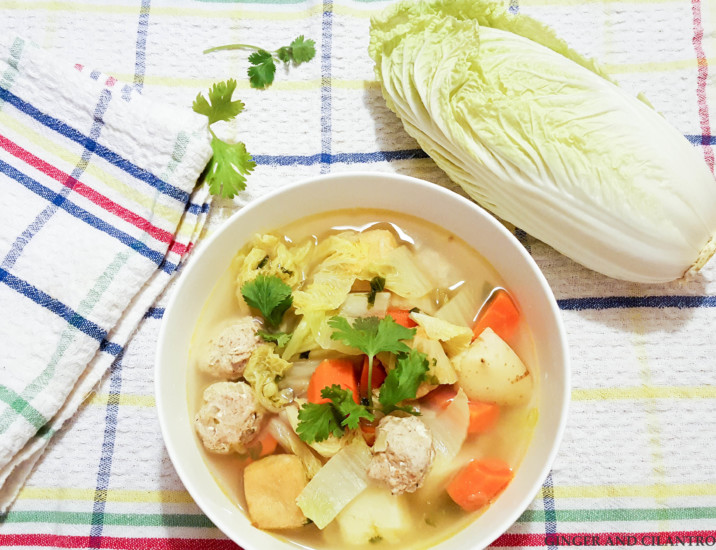 2 lb ground turkey
2 tsp pepper
1 white part of cooked salted duck eggs, diced finely (optional)
1 egg white, beaten
1 medium Napa cabbage, cut to medium-sized pieces
2 carrots, chunked
3 - 4 potatoes, chunked
2 cups fried beancurd/tofu cubes ('tau pok' 豆泡 )
1 shallot, sliced
6 cups water or chicken stock
Cilantro for garnish
Meatballs: Mix ground turkey, salted duck egg whites and pepper. If not using salted egg whites, add 2 tsp salt. Shape mixture into balls and set aside. Once well mixed, add beaten egg white as a binding agent. These can prepared in advance and frozen. This made 16 2" meatballs.
Fry shallots in ½ tsp of oil till it just starts to give off a fragrance. Push shallots to one side of the pan or wok.
Add ½ Tbsp more oil. When heated, add carrots and cook for about ½ minute or till the outer edges begin to cook. Keeping high heat, add in the potatoes and quickly toss to coat the potatoes in the oil. About ½ minute.
Carefully add water and bring to a boil. Add the meatballs and boil for another 30 seconds.
Lower heat and simmer for about 20 minutes. Carrots and potatoes should be nicely softened.
Add beancurd/tofu cubes in the last 5 minutes.
Garnish with cilantro. Serve with salad, couscous or rice.
The meatballs can be made in advance and frozen.

Any leftover turkey from Thanksgiving can be used instead of making meatballs. Skip step 1.
Recipe by
Ginger and Cilantro
at http://www.gingerandcilantro.com/easy-turkey-meatball-soup/