Crispy Chocolate Chip Cookies ('Famous Amos' copycat)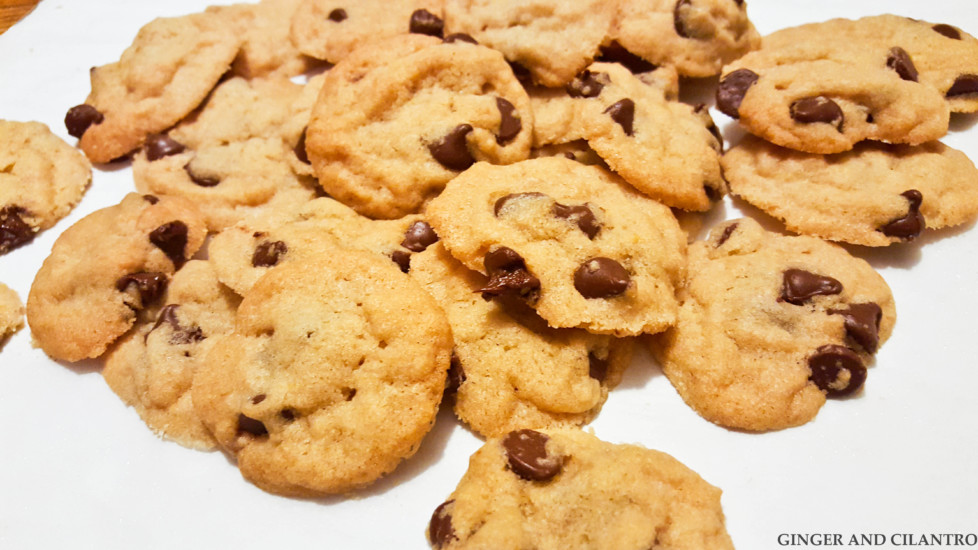 Serves:
70 - 80 large cookies
170g white sugar
230g packed light brown sugar
2 sticks /1 cup butter
1 cup of vegetable oil
1 large egg
1 Tbsp fresh milk
1 tsp vanilla essence
1 tsp almond essence
500g all-purpose flour, sifted
1 tsp salt
1 tsp cream of tartar
1 tsp baking soda
340g/1 bag semisweet chocolate chips (I used Ghiradelli dark, semi-sweet chips)
Allow butter to soften. Cream butter and the both sugars using a stiff spatula. It helps if there are no lumps in the sugar first. This should only take about 1-2 minutes.
Add the oil, egg, milk and vanilla essence in and continue whisking till all the ingredients are incorporated. Start by whisking in sections within the bowl and slowly moving around instead of the whole bowl at once. The mixture should appear quite liquid. This should take 3-4 minutes.
Gently mix in the dry ingredients - sifted flour, salt, cream of tartar and baking soda. Fold into liquid batter. The batter should start to become creamy.
Fold in the chocolate chips.
Refrigerate batter for 30 minutes.
Place a teaspoon of batter onto baking sheets lined with parchment paper.
Bake at 350F (175C) for between 8-12 minutes. Cookies are light yellow/golden in color when done and slightly soft. It will harden and become crispy on the outside (slightly chewy on the inside) when allowed to cool a bit. For darker and all-round-crispier cookies, bake for an extra minute.
Recipe makes 48 large cookies (1 Tbsp batter) and 70 small cookies (1 tsp batter).
I froze a third of the dough to use in a jiffy next time.

The cookies will harden a little after sitting out for a while. Don't worry if they come out of the oven slightly soft.

To halve the recipe, use 1 small egg.
Recipe by
Ginger and Cilantro
at http://www.gingerandcilantro.com/chocolate-chip-cookies/