Crystal Skin Shrimp Dumplings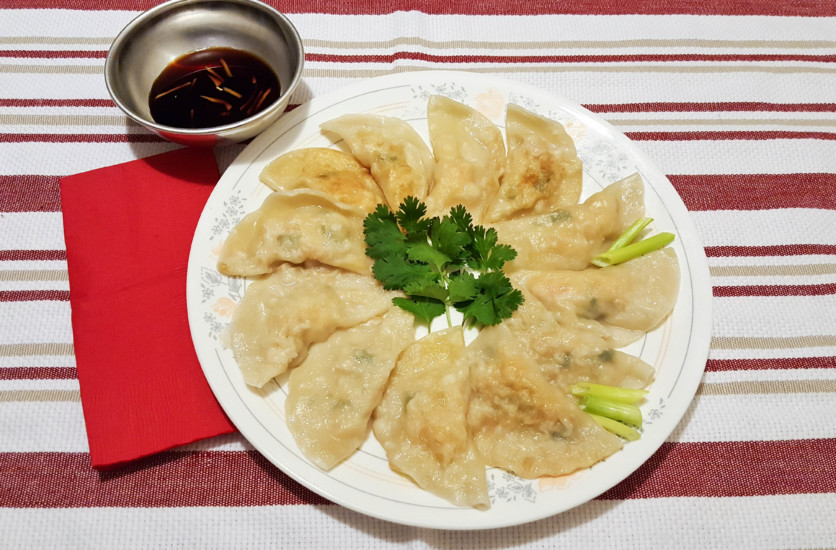 Round dumpling wrappers (store-bought)
8 oz shrimp, chopped into paste-like consistency
¼ tsp salt
½ tsp sugar
½ tsp white pepper
½ tsp sesame oil
1 tsp cornstarch
1 egg white, divided into 2
2 tsp cilantro, finely chopped
½ cup water
1 spring onion, cut into ½" strips (for garnish)
*3 Tbsp light soy sauce (for dipping sauce)
*1½ Tbsp black vinegar (for dipping sauce)
*1/2" ginger, julienned (for dipping sauce)
Combine chopped shrimp with salt sugar, pepper, sesame oil, cornstarch, ½ of the egg white and chopped cilantro.
Place 1 Tbsp of shrimp filling in the middle of a wrapper. Dap edges of the wrapper with the remaining egg white, fold wrapper over the filling and seal. Repeat till all filling is used, about 10-12 dumplings.
Pan-fry both sides of the dumplings in 1 Tbsp oil over medium heat for about 1 minute.
Add ½ cup water, cover and bring to a boil. Then uncover and allow to cook for another minute.
Mix dipping sauce ingredients * in a small saucer.
Garnish and serve with dipping sauce.
I prefer chopping the shrimp to using a food processor because I like to able to bite into pieces of shrimp. For a finer consistency, use a food processor to mince the shrimp.

To freeze, lay dumplings on a cooking sheet and tray after Step 2 and freeze. Store in a sealed bag when frozen.

(Adapted from Katie Chin's Crystal Shrimp Dumpling)
Recipe by
Ginger and Cilantro
at http://www.gingerandcilantro.com/crystal-skin-shrimp-dumplings/