Honey Walnut Pine Nut Shrimp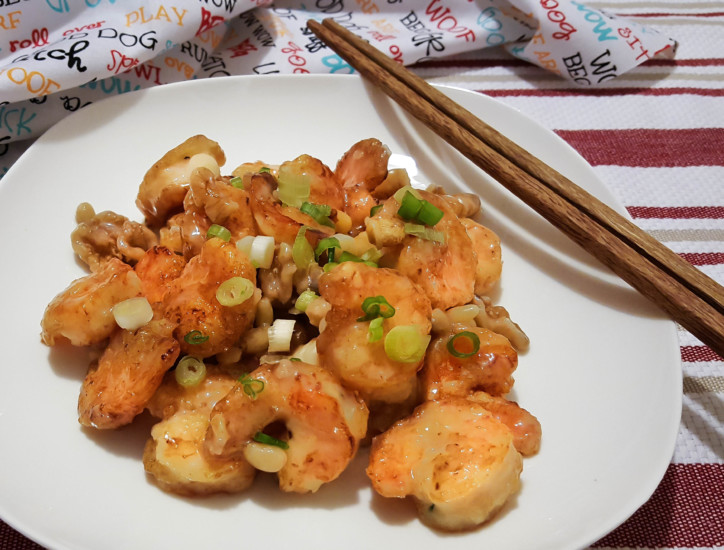 3 Tbsp granulated white sugar
1 cup water
⅓ cup walnuts
⅓ cup pine nuts
½ lb shrimp, shells and tails removed, deveined
2 egg whites
1 Tbsp corn starch
4 Tbsp mayonnaise
1 Tbsp honey
1 Tbsp sweetened condensed milk
1 green onion, thinly chopped
Soak deveined shrimp in a bowl of water with some baking soda and sugar. This step is optional but makes for crunchy, bouncy shrimp.
Dissolve 3 Tbsp sugar in 1 cup of water over medium heat. Add walnuts and pine nuts and boil for about 2 minutes. Drain and set aside.
Whisk egg whites until foamy. Add in the cornstarch and whisk again. Dry shrimp in paper towels, giving it a gentle squeeze to remove excess moisture. Put shrimp into eggwhite/cornstarch batter.
Heat 2 Tbsp oil in a pan/wok over medium-high heat. When a drop of water dances in the oil, carefully place shrimp one by one into the oil. I used tongs to prevent the batter from dripping all over in the oil. You don't have to toss the shrimp, just leave it in the oil in a single layer, without touching each other, for about 1 minute, or till one side turns golden brown. Using tongs, turn each shrimp over and leave for about another minute. Remove with tongs and place on paper towels.
Mix honey, mayonnaise, sweetened condensed milk. Add shrimp, walnuts and pine nuts. Coat well using a pair of chopsticks or spoons.
Garnish with green onions and serve.
Recipe by
Ginger and Cilantro
at http://www.gingerandcilantro.com/honey-walnut-pine-nut-shrimp/