Taiwanese Gua Bao 刮包 (Braised Pork Belly)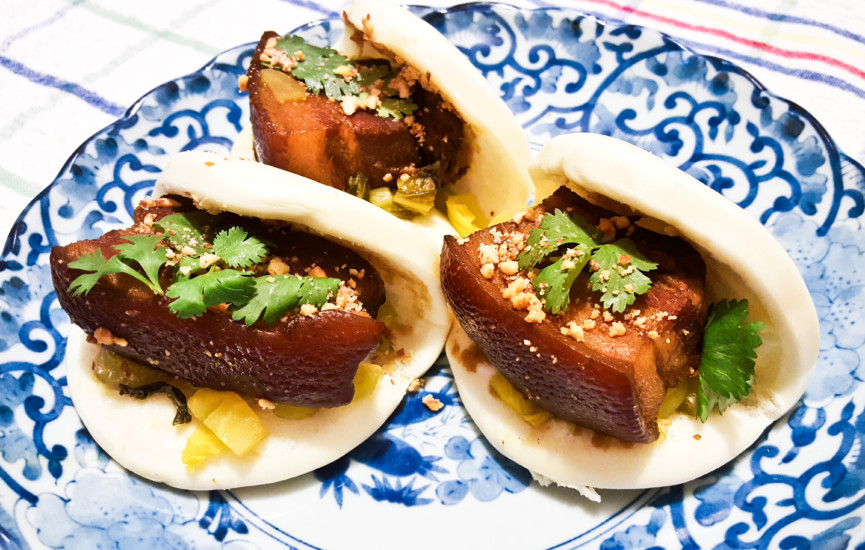 8 white buns, steamed
1 lb pork belly 五花肉, skin on, cut into ½" slices & as wide as the buns
4 cloves garlic, crushed
4 slices ginger
3-4 star anise
2 Tbsp brown sugar
1 Tbsp pepper corns
1 tsp five-spice powder
¼ cup light soy sauce
¼ cup dark soy sauce
½ cup Chinese cooking wine
1-2 thai chillis, de-seeded & sliced (optional)
4 cups water
A handful of salted or roasted peanuts
Salt and sugar
1 cup Chinese preserved mustard greens (available in Asian grocery store)
Cilantro (for garnish)
Brown pork belly over medium-high heat in a pot till lightly browned on both sides. Set aside.
Add garlic, ginger and chillis (if using) into the pot and cook till fragrant.
Add star anise, pepper corns and sugar, and cook till sugar begins to melt. Add rice wine.
When it just comes to a boil, add five-spice powder, light and dark soy sauces, and water, and bring to a boil again.
Place pork belly into the gravy, cover and simmer over low heat for 1-2 hours, till meat is very tender.
Meanwhile, ground peanuts with mortar/pestle or food processor. For 2 Tbsp of grounded peanuts, add 1 tsp salt and 1 tsp sugar.
Rinse mustard greens under running water to get rid of some of the saltiness. Coarsely chop and set aside.
To serve, place a piece of pork belly between a hot steamed bun, top with mustard greens, sprinkle some chopped peanut and garnish with cilantro.
Recipe by
Ginger and Cilantro
at http://www.gingerandcilantro.com/taiwanese-gua-bao-pork-belly/