Sunday Morning Tomato Basil Frittata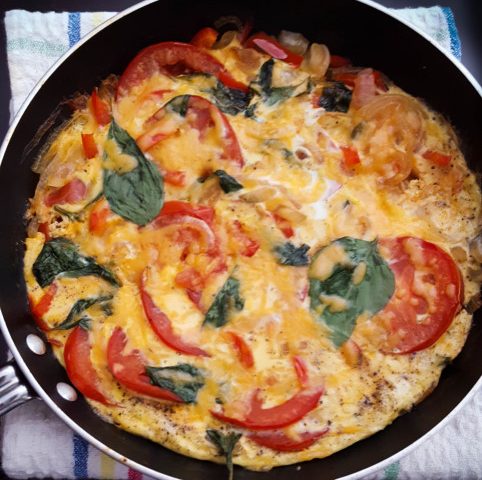 2 tomatoes, sliced
1 onion, halved and sliced
1 cup fresh basil
½ red pepper, sliced
2 eggs, beaten
½ cup milk or cream
3-4 Tbsp shredded cheese of choice (Cheddar used in this recipe)
Salt and pepper
Preheat oven to 350F.
Meanwhile, heat 2 Tbsp oil in an oven-proof pan.
Place onions into pan on medium heat till they caramelize.
Add red pepper and allow it to soften.
Add tomatoes and basil. Stir a few times till basil is wilted.
Mix milk and eggs together, seasoning with salt and pepper according to taste.
Pour egg mixture over ingredients in the pan. Lower heat to medium-low. Allow egg to slowly cook.
When egg starts to become medium-soft, sprinkle with your cheese of choice
Place pan into the oven and bake for 10-15 minutes, or until egg is fully cooked but not browned.
Adjust the amount of salt depending on the type of cheese being used.
Recipe by
Ginger and Cilantro
at http://www.gingerandcilantro.com/sunday-morning-tomato-basil-frittata/