Pan-Fried Tofu with Egg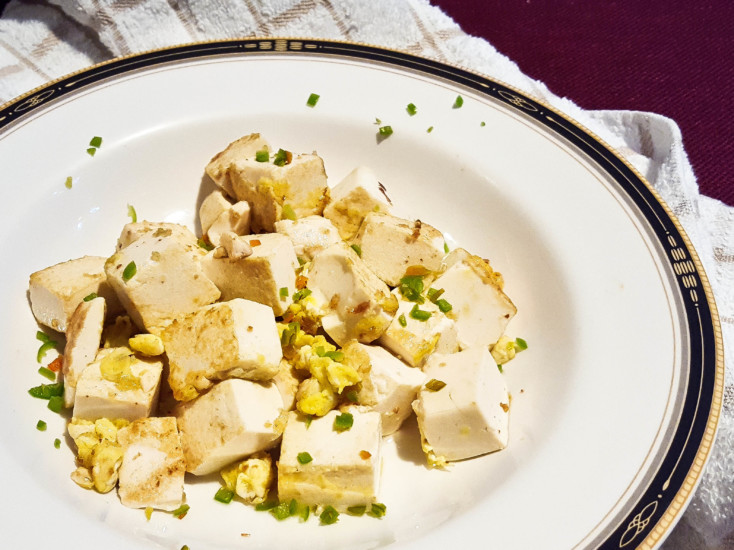 1 block firm tofu
1 green or red chilli, seeds removed & finely chopped
1 egg, beaten with a pinch of salt
Pepper to taste
Carefully remove tofu from packaging. Place it between pieces of kitchen towels. Very gently apply pressure to squeeze the liquid out, repeating till tofu is fairly dry. Alternatively, place the tofu between pieces of kitchen towels, and put a weighted, flat item on top for a few minutes (Eg. heavy pot or flat pan/plate with a large can on it).
Heat 3 Tbsp oil in a deep pan.
When the oil is shimmering, lower to medium heat and carefully put tofu into the pan in a single layer. Do not overcrowd as it will lower the temperature of the oil too much. You want the oil to remain very hot.
Using tongs or spatula, turn the tofu after about 15-20 seconds. The cooked side should have a slight golden coloring. For a deeper color, turn the tofu a few seconds later. Repeat till all sides are golden. Note that the tofu will not turn a deep brown as there is no flour here.
Add egg and allow it to set, about 10 seconds. Quickly turn a few times to mix eggs and tofu together.
Remove tofu and drain on absorbent paper on a rack.
Sprinkle with a dash of pepper and green chillies and serve.