Healthy Meat Sauce and Whole Wheat Spaghetti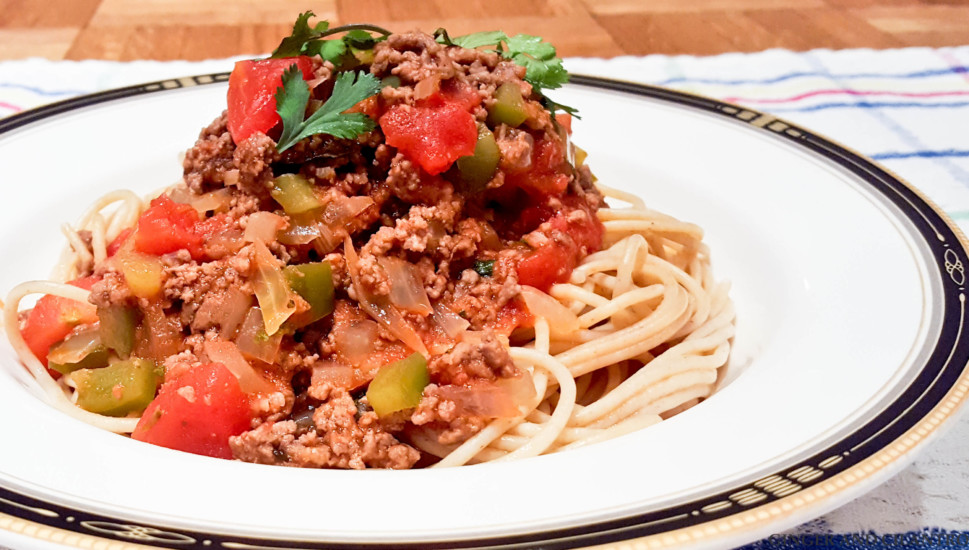 Whole wheat spaghetti, cooked according to instructions
2 lb lean, ground beef
1 can (24 oz ) diced tomatoes
8 oz tomato paste
1 large onion, diced
1 green pepper, diced
1 whole garlic, minced
1 bunch fresh basil, roughly chopped
1 bunch parsley, chopped (reserve some for topping)
1 Tbsp oregano, chopped
1 Tbsp smooth peanut butter - Secret Ingredient!
1 tsp sugar
4 bay leaves
Salt and pepper
Cook spaghetti according to its instructions, adding some salt to the water. Drain and set aside.
In a large pot, heat 3 Tbsp of oil. Add ground beef, breaking it up to prevent clumps. When it is no longer pink, remove from the pot, set aside and drain the grease, leaving 2 Tbsp in the pot.
Warm up the leftover grease again, caramelize onions and add peppers. Cook until softened. Add garlic and cook for 1 minute.
Add diced tomatoes and tomato paste. Stir well and turn up heat till sauce just starts to boil and return heat to medium high.
Add basil, parsley, oregano, peanut butter, sugar and salt/pepper to taste. Continue to stir for 1 minute.
Add ground beef and bay leaves. Cook for 2 minutes, allowing flavours to meld together. Add chopped parsley and cook for another minute. Simmer for 30 minutes.
Serve over spaghetti. Top with chopped parsley and grated Parmesan (not shown).
For something spicy, add 2 tsp cayenne pepper in Step 5.

Peanut butter adds a very subtle, mysterious and unexpected taste. Very unique!

(adapted from The Pioneer Woman's Spaghetti Sauce)
Recipe by
Ginger and Cilantro
at http://www.gingerandcilantro.com/healthy-meat-sauce-whole-wheat-spaghetti/