"Dragon's Eye" Cabbage and Eggplant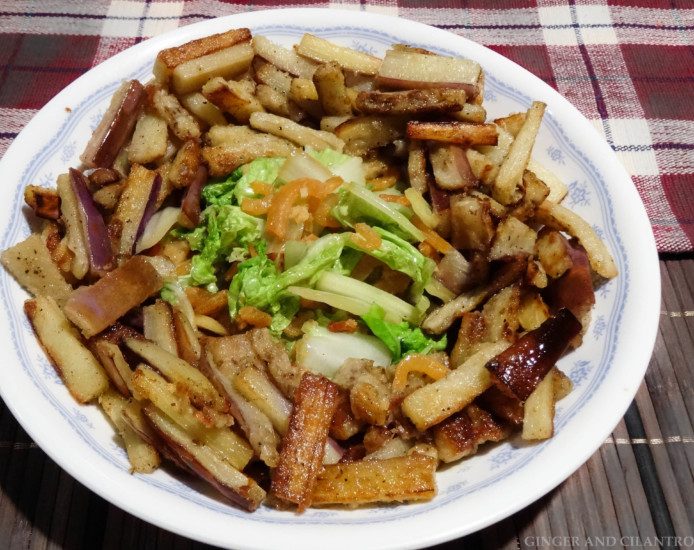 1 medium Chinese eggplant, cut into 2" x ½" pieces
3 Tbsp flour
Salt
Black pepper
Handful of dried shrimp ('hay bee'/'xia mi' 虾米), soaked and squeezed as dry as possible
5 or 6 leaves of Napa cabbage, roughly chopped
½" ginger, cut into thin matchsticks
1 tsp light soy sauce
½ tsp Chinese cooking wine
Coat eggplant in the mixture of flour, black pepper and a pinch of salt.
Heat 4 Tbsp of oil. When oil is sizzling, place eggplant into the pan. Try to spread it out so that it forms a flat layer in the pan. Do not touch it for about 20 seconds to allow eggplant to nicely brown on one side. Carefully turn each piece of eggplant and repeat. Using tongs makes this step easier. Repeat till all the eggplant is lightly crisped on the outside. The flesh will remain soft. Remove from the pan and set aside.
Remove any extra oil, leaving 1 Tbsp in the pan. Add dried shrimp. The drier the shrimp, the less oil splatter there will be. Stir-fry till shrimp has softened.
Add ginger and garlic and fry for 20 seconds to release the aromas.
Add cabbage stems first, followed by leaves when stems are partly cooked. Fry quickly.
Add soy sauce and cooking wine. Lower heat and simmer for about a minute.
For this recipe's namesake, serve in a plate with cabbage in the middle, using some shrimp for the centre. Arrange eggplant around the cabbage.
This recipe is quick and easy.
The fried eggplant can be had on its own will be just as appealing.
Napa cabbage and dried shrimp is popular as a standalone side dish too.
Recipe by
Ginger and Cilantro
at http://www.gingerandcilantro.com/dragons-eye-cabbage-eggplant/